What is commonly known as an IP camera, is a camera that digitizes and processes analog images, encodes them internally, and then transmits the video information digitally over an Ethernet connection to a computer or similar device. An IP camera can have either a CMOS or a CCD sensor, and is available in the same styles as traditional surveillance cameras such as Pan/Tilt/Zoom, domes, bullets, box, infrared, covert, and wireless.

IP cameras are typically equipped with an embedded web server and can be accessed and controlled over any IP network such as a WAN, LAN, Intranet, or Internet. By utilizing a standard web browser or client software users can view an IP camera's video output from any local or remote location.
IP cameras combine the capabilities of a camera with some PC functionality, do not require a direct connection to a PC to operate, and can be placed anywhere within a network. Just like any other PC on the network, an IP camera is a "network appliance".It has its own IP address, connects directly to a wired or wireless network and requires maintenance.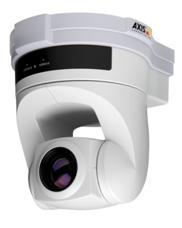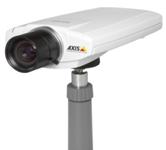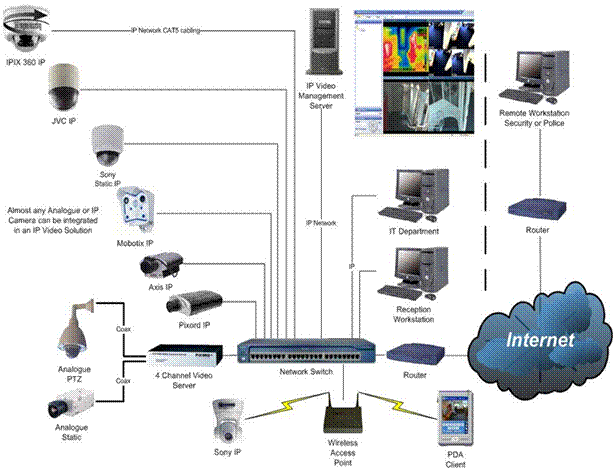 Hybrid Analogue/IP Systems
There's a difference between a DVR-based system and a hybrid surveillance system. With a standard DVR setup, you're limited to using only CCTV cameras. The analogue video signals are sent to a DVR where the footage is then converted to digital. In a hybrid system, you have the option of using both IP network cameras and analogue cameras, all operating together on the same network. This is typically done by using video encoders and servers, or a hybrid DVR.
Video Encoders Servers
A video encoder (also known as a server) digitizes analogue video signals so they can be sent directly over an IP network. This enables users to view live video images using a standard web browser or with video management software on any local or remote computer with network access. Best of all, the digitized footage from the analogue cameras is traveling along the same IP network as any new IP cameras you add, so you can view footage from all your cameras the same way.